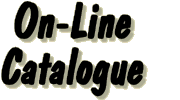 Full information on all products and services sold by ZCM Services.
Click on the buttons at the left to select a section of
the catalogue to view or use the shortcuts above.

The information centre contains a copy of the ZCM Services Trading Terms and Conditions. Please familiarise yourself with this document. It details how orders are processed, what safeguards are in place to prevent mistakes or fraudulent activity, and how to order products on-line or by telephone, fax and snail mail.

Wherever you see the PDF icon

the product or service in question has a copy of the manufacturers' sales brochure available, stored in Adobe Acrobat Portable Document Format (PDF). Adobe provide a FREE viewer and web browser plug-in for all major computer platforms. Click on the Acrobat button below to obtain the latest version.

Please report any problems encountered with these web pages to

info@zcm.com.au

Copyright ©1997 ZCM Services, Australia. Last updated on May 4, 1999.