NRD-345 H.F. Receiver.
---
The NRD-545 is the new entry level product from JRC.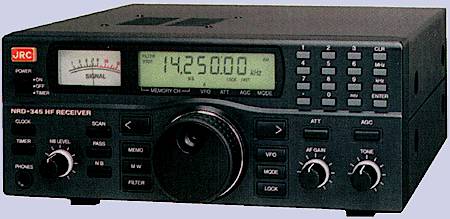 It is the ideal choice for those who require a top performance receiver, but with a limited budget.
---
To quote reviewers in the "World Radio TV Handbook" (1997):

"This receiver you can take out of the box and have working in a few minutes, because of a logical layout. There's an excellent instruction book if you do need help."

"The JRC NRD-345 is an extremely well built receiver, a typical JRC product. It looks nice and is very easy to operate."
---
In brief, some of the interesting features of the NRD-345 are:
Frequency coverage of 10kHz to 30.000MHz.
100 memories which store everything including reception mode and attenuator setting.
Two I.F. filtering bandwidths supplied standard (2.0 & 4.0kHz) with the option of a third custom filter.
All mode reception including RTTY / FAX.
Outstanding sensitivity.
Noise Blanker with adjustable trigger level.
Full remote control via standard RS-232 interface. (even the s - meter reading is available remotely !!)
Comprehensive operation information displayed on custom backlit L.C.D.
AM Synchronous mode for vastly improved AM reception.
Precise digital tuning in 5Hz steps using direct digital synthesis.
Analogue feel tuning control using a rotary magnetic encoder.
24 Hour clock / timer with remote control outputs.
Excellent EMI / RFI shielding.
Operation from all major world mains power supply standards or 12 Volts D.C.
Comprehensive instruction manual which includes all user adjustments and schematics.
All promotional photographs and advertising material, corporate names and logos, product names, trade names, trademarks and registered trademarks are the property of their respective owners, and are acknowledged as such. Whilst every care is taken in the preparation of the information presented in these pages, ZCM Services can take no responsibility for errors or omissions.
Please report any problems encountered with these web pages to info@zcm.com.au
Copyright ©1997 ZCM Services, Australia. Last updated on November 9, 1998.