The NRD-535 and NRD-535D are the fourth generation of a family which began with the NRD-505 over 15 years ago. It builds on the already solid reputation which JRC has rightly earned.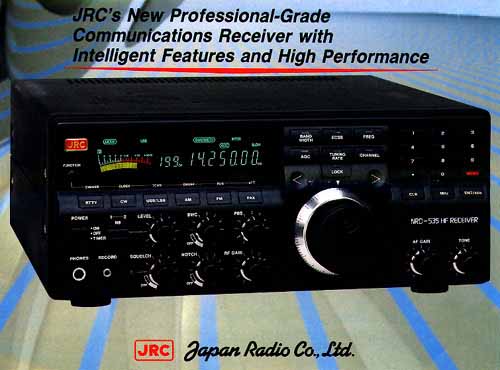 It introduces numerous new and innovative features, and improves the ease of operation. The reception performance is superlative.
---
To quote reviewers in the "World Radio TV Handbook" (1992):

"We conclude that this receiver offers excellent value for the serious shortwave listener. Most of the specifications are excellent... The company listened to the criticism of the 525, and incorporated a lot of extra features as standard. ...a timely upgrade that gives JRC the edge."

In presenting the award for "Best Communications Receiver 1991" the World Radio TV Handbook test team summed up with:
"There's no doubt in the minds of the WRTH test bench team. High performance, excellent computer connectivity, and ease of use make this a clear winner."
---
In brief, some of the interesting features of the NRD-535D are:
Fully modular design for ease of maintenance and simple upgrades.
All mode reception. (including RTTY direct output to a serial printer or terminal with optional RTTY module)
200 memories which store everything including reception mode and attenuator setting.
Excellent dynamic range. (better than 106 dB)
Outstanding sensitivity.
Full remote control via standard RS-232 interface. (even the s - meter reading is available remotely !!)
Comprehensive operation information displayed on custom vacuum fluorescent display. (the s - meter is a digital electronic display - but still has the analogue feel !)
ECSS (exalted carrier, selectible sideband) for vastly improved AM reception. (NRD-535D only)
Continuously variable bandwidth control. (NRD-535D only)
Dual width noise blanker with adjustable trigger level.
Continuously variable pass - band shift.
Continuously tunable IF notch filter.
Precise digital tuning in 1Hz steps using direct digital synthesis.
Analogue feel tuning control using a rotary magnetic encoder.
24 Hour clock / timer with remote control outputs.
Excellent EMI / RFI shielding.
Multi - voltage power supply - including 12V DC and all major world AC standards.
Comprehensive 50 page instruction manual (all English) which includes all user adjustments and schematics.
For a detailed view and description of the front panel controls click on the small radio.

(WARNING: Large Graphic 162k)
All promotional photographs and advertising material, corporate names and logos, product names, trade names, trademarks and registered trademarks are the property of their respective owners, and are acknowledged as such. Whilst every care is taken in the preparation of the information presented in these pages, ZCM Services can take no responsibility for errors or omissions.
Please report any problems encountered with these web pages to info@zcm.com.au
Copyright ©1997 ZCM Services, Australia. Last updated on May 10, 1999.