NRD-545DSP H.F. Receiver.
---
The NRD-545 is the latest release from JRC.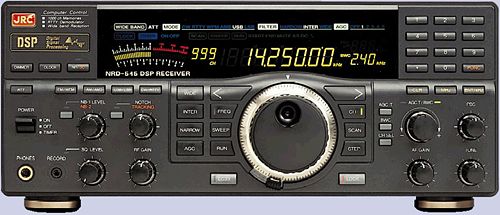 It takes a radical new approach to receiver operation, replacing the conventional I.F. filters and detectors with Digital Signal Processing. (DSP) The result is unrivalled performance and total flexibility. As well as all the standard options expected on a modern H.F. receiver, processing the signal in the 'digital domain' allows several new features including automatic beat cancelling, automatic noise reduction and automatic notch tracking.
---
To quote reviewers in the "World Radio TV Handbook" (1999):

"In operational terms the NRD-545 was simply delightful, and monitoring sessions notionally for testing purposes became addictive periods of extended listening. .... All in all, the JRC NRD-545 is one of the finest HF receivers to ever come our way and we really enjoyed every moment of the test period. Perhaps the most eloquent tribute we can give to the NRD-545 is that we were very sorry to have to return it !"

In presenting the award for "Best Semi-Professional Receiver 1999" the World Radio TV Handbook test team summed up with:
"Of the traditional 'table-top' mains-powered receivers there is no doubt that the JRC NRD-545 offers the finest overall performance. ... The NRD-545 has quite superb filters, an excellent balance of sensitivity and strong-signal performance and is a delight to use; for the dedicated HF enthusiast who insists on something approaching state-of-the-art performance and functionality, the JRC unit is the best."
---
Some of the outstanding NRD-545DSP features:
Frequency coverage of 100kHz to 30.000MHz.
Expanded Frequency coverage to 2000MHz with optional CHE-199 module.
1000 memories which store everything including reception mode and attenuator setting.
All I.F. filtering, notching and detection performed by JRC custom designed Digital Signal Processing (DSP) L.S.I. chip.
All mode reception including RTTY. (and Wide FM optional)
Superlative dynamic range. (better than 106 dB)
Outstanding sensitivity.
Automatic noise reduction and automatic beat cancelling adjustable in 256 steps for optimal performance under any conditions.
A.G.C. time constant fully adjustable from 40ms to 5.1s in 20ms steps !
Notch adjustable +/- 2.5kHz in 10Hz steps, and includes automatic tracking +/- 10kHz once locked.
Full remote control via standard RS-232 interface. (even the s - meter reading is available remotely !!)
Comprehensive operation information displayed on custom L.C.D. (the s - meter is a digital electronic display - but still has the analogue feel !)
ECSS (exalted carrier, selectible sideband) for vastly improved AM reception.
Continuously variable bandwidth control from 10Hz to 9.99kHz in 10Hz steps.
Precise digital tuning in 1Hz steps using direct digital synthesis.
Analogue feel tuning control using a rotary magnetic encoder.
Enhanced 0.5ppm frequency stability with optional CGD-197 TCXO.
24 Hour clock / timer with remote control outputs.
Fully modular design for ease of maintenance and simple upgrades.
Excellent EMI / RFI shielding.
Multi - voltage power supply - including 12V DC and all major world AC standards.
Comprehensive instruction manual which includes all user adjustments and schematics.

NRD545DSP Brochure (381k)
For a detailed view and description of the front panel controls click on the small radio.

(WARNING: Large Graphic 78k)
All promotional photographs and advertising material, corporate names and logos, product names, trade names, trademarks and registered trademarks are the property of their respective owners, and are acknowledged as such. Whilst every care is taken in the preparation of the information presented in these pages, ZCM Services can take no responsibility for errors or omissions.
Please report any problems encountered with these web pages to info@zcm.com.au
Copyright ©1997 ZCM Services, Australia. Last updated on February 25, 1999.